Preventive Commercial Disinfection Service
Commercial virus disinfection services are something most businesses have never considered until now. Coronavirus has businesses struggling with keeping both employees and customers happy and safe. The uncertainty of future profits is real. After reopening if a company has a COVID-19 outbreak they may have to close their doors again, and it may be forever.
Planning and being proactive is always better than being reactive. Disinfecting a building that has had many positive cases is costly and takes time. Routine commercial disinfection before an outbreak occurs is a better option. Your employees and customers will notice the extra steps you take to keep them safe.
Cleanliness is happiness, except for viruses and bacteria. A clean surface makes for fast and easy disinfection. We can offer this cleaning for you, or we are more than happy to work with your staff to make sure the facility is ready. For the best rate possible, we recommend that the cleaning is complete before arrival.
Disinfecting Your Facility With Us
If you are going to pay for a commercial disinfection service, you want a company that knows what they are doing. We handle major commercial decontamination projects for viruses all around the United States. Our teams train and practice destroying microorganisms every day. Our preventive cleaning and disinfection service is affordable and sets you up for less expensive emergency decontamination, should the need arise.  Professional and friendly, we will provide you with what you need.
How to Prepare for our Commercial Disinfection Service.
The easier it is for us to apply a disinfectant, the less expensive the disinfection service will be. We recommend storing loose items and paperwork before the scheduled service. If you have a janitorial service, having them clean beforehand will also save in cost. If possible, a building free of occupants allows us to move faster saving on labor.
Cleaning Before Your Commercial Disinfection Service
Disinfectants work best on clean surfaces and if you need deep cleaning we are here for you. The process depends on the type of material and current cleanliness. We offer commercial cleaning from HEPA Vacuuming and air scrubbing to steam cleaning. From windows and walls to flooring and contents, we have you covered. Some of our cleaning before disinfection services include: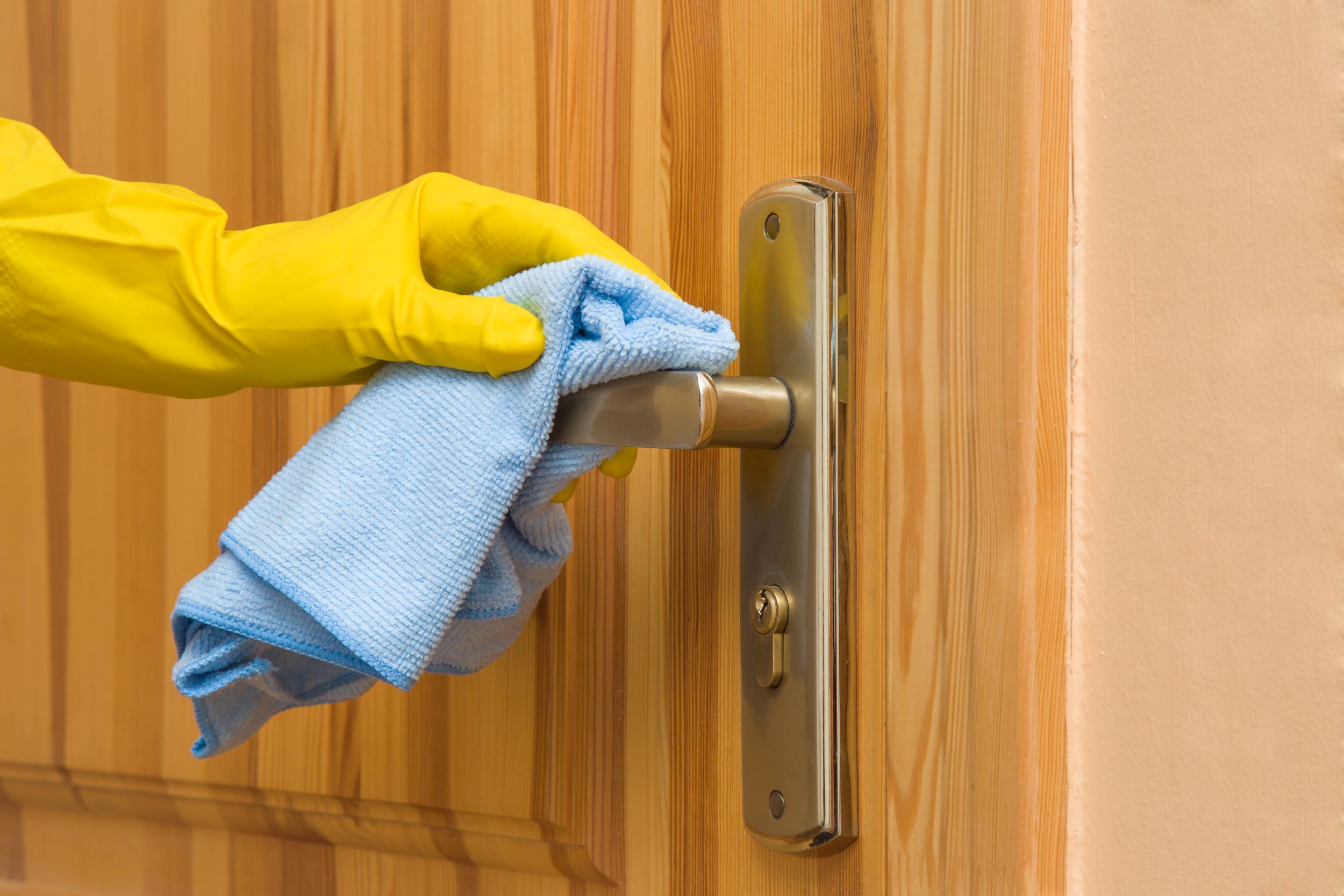 HEPA Vacuuming

Air Scrubbing

Damp Wiping

Window Cleaning

Steam Cleaning

Carpet Cleaning
Tile and Grout Cleaning
VCT Stripping and Waxing

Pressure Washing

Electronics Cleaning

Upholstery and Leather Cleaning
When we clean, our goal is to make the indoor environment a healthier place, and we can prove it. Our particulate meters and surface testing prove the reduction of microorganisms. And we are happy to provide you with before and after results. Your commercial building will have improved air quality and reductions in mold, bacteria, and of course… viruses.
If cleaning is already in place, we will ask what chemicals you use. We want to make sure that we are not mixing chemicals and creating a dangerous environment.
Disinfectant Application
Disinfection without proper cleaning is a sure way of failure. This is why after cleaning it is time to apply the disinfectant. This final step is how we go from virus reduction to virus elimination.
Methods of application include both manual and mechanical disinfection. Some manual disinfection methods include wiping, hand spraying, and mopping. Mechanical disinfection methods include electric spraying and fogging. With both methods, the goal is achieving the appropriate dwell time according to the EPA. We use timers and take digital photos to document appropriate dwell time.
Our botanical disinfectant is green friendly and has a short dwell time. It is EPA approved for Coronavirus disinfection and has an emerging pathogen claim. The disinfectant is safe to use and requires no respiratory protection. You will be able to resume work with no delay after disinfection. Also, your employees and customers will not be subject to harmful chemical vapors.
Types of Facilities with Recent Commercial Disinfection
It doesn't matter how large or small your commercial building is. We disinfect everything from million square foot warehouses to small offices. Our company is here to be a partner with your company. Customized service and flexibility with your needs is what we are all about. If you have specific needs or concerns, we will tailor the service to fit your needs and your budget.  We want to be your coronavirus disinfection and decontamination vendor.
Office Disinfection Service
Printers, computers, servers, and other sensitive equipment is easy disinfection for us. We have trained our teams to use care with these items to avoid damages. Beyond following the CDC guidelines the level of cleaning is up to you. Windows, walls, and office chairs in individual work stations may be cleaned if necessary. Choose from light wiping to deep steam cleaning and we will make it happen.
Warehouse Disinfection Service
Large manufacturing, distribution, and warehouse disinfection is something we take pride in. We have the industrial equipment and trained personnel to complete these jobs fast. If you need a disinfectant application to tall areas our foggers will get it there.
Safety gear including steel-toed boots is always in the truck. Our workers are OSHA certified and understand job site hazards. You will zero issues with us following your safety protocols.
Estimating the coronavirus commercial disinfection service is fast and easy. Tell us what you want clean, where you want disinfection, and what you want us to stay away from. You will have the cost of disinfecting your warehouse the same day you call and we will be at your site asap.
Disinfecting Nursing Homes
Unfortunately, Coronavirus has taken its toll on nursing homes. And they have been the most challenging disinfection projects. Normal vendors are afraid to enter the facility and family members can't visit. The staff is working overtime and exhausted. It is a trying time but we are here to help.
When there is a positive case we have the
decontamination
experience you need. By building isolation containment for the affected area you will reduce the spread. Coronavirus disinfection for that part of the building is next in hopes that no there has been no other exposure or spread.
Yet, negative air containments before contamination occurs is better. If we set isolation chambers for you, they will be easy to use if needed. Increasing air filtration with portable HEPA air scrubbers will also reduce risk. Contaminated air will filter faster with our air scrubbers containing the disease.
Retail Disinfection
Coronavirus has consumers on edge and Customers need to feel safe when shopping.  Coronavirus disinfection services is a great way to make them feel safe. Yet, how will they even know if we disinfect after hours? Specialized signage is available for you to post in windows if you would like. Also, aesthetics and odor make a huge difference. Our disinfectants leave a clean fresh lemon scent. If it smells clean it must be clean. speaking, pressure washing your front entryway and window cleaning are impactful. A clean looking storefront with a clean smell, clean floors, and the proper signage. That seems like a healthy and safe place to shop.
Disinfecting Churches
Virus disinfection services for Faith-Based organizations are part of the CDC Reopening Guidelines and we can help. Churches, Synagogues, and other places of worship are easy to keep disinfected with us. Cleaning and disinfection of pews, doorways, AV-boards, and other items is important. And disinfecting between services removes viruses from surfaces and prevents outbreaks.
After our commercial virus disinfection service prayer may resume immediately. You won't have to worry about downtime and your patrons will be safe.
Beyond our Commercial Disinfection Service
Our commercial disinfection services are not limited to the above customers.  They are also not limited to coronavirus disinfection or decontamination in general.  From hotels to courthouses and military bases, we are prepared to be your premier vendor.  Flood Zone Disaster Recovery Solution wants to help you with any disaster need you have.  Our customers use our services year-round with disaster planning and business continuity. A smarter recovery to get you back in business fast. 
*Flood Zone Disaster Recovery Solutions does not offer routine janitorial services. We can, however, perform deep cleaning for health purposes on projects with biological or chemical contamination as part of the decontamination or preventive disinfection process.
**Preventive disinfection services are intended to reduce potential contamination in a building and are not guaranteed to eliminate future risk of contamination after re-occupancy or spread of the disease from prior exposure.  For example, if a person who is infected with a virus enters the building following disinfection, there is the potential for that person to re-contaminate surfaces that were previously treated.